Back Home
Outdoor Recreation in Temecula, CA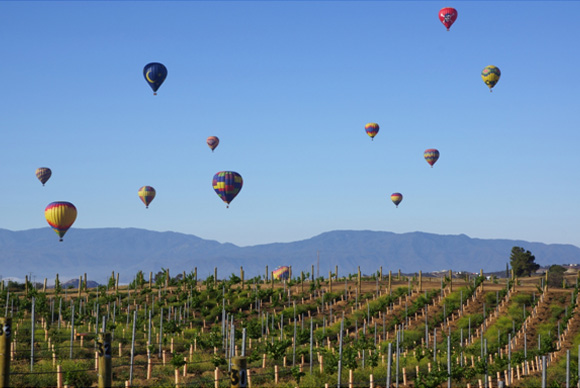 In Temecula, nothing beats stepping out to enjoy the sights, the sounds, and the smiles. This city's lovely Mediterranean climate makes enjoying various outdoor activities easy any time of the year.
Don't know where to start spending your downtime in Temecula? Check out our list.
Taste Southern California's finest wines
Morning mists, a high midday sun, and cool, breezy nights make Temecula Valley's local climate ideal for viniculture. Since the '70s, the region has been producing award-winning merlots, grenaches, chardonnays, and more. Temecula Valley Wine Country currently has over 30 wineries, most of which offer boutique wine-tasting tours and full-service accommodations.
Start your Temecula wine-tasting journey with the Wilson Creek Winery, the city's largest wine producer, best known for its almond-flavored bubbly. You should also stop by the family owned and operated Doffo Winery, which is renowned for its limited-edition spirits, and the Oak Mountain Winery, a wine cave built inside a hollowed-out hill.
Swing by the city's championship golf courses
Temecula's consistently fine weather makes it easy to spend time on championship-caliber golf courses at a whim. Within city limits alone, there are nine plush courses that aficionados of the game shouldn't miss. (Read about the five must-see Temecula golf courses in our blog.)
Thanks to their idyllic and romantic backdrops, these premier golf courses are also highly desired venues for weddings and corporate events.
Take flight in hot air balloons
Hop onto a hot-air balloon and see Southern California from a very different perspective. The valley's steady breezes and warm, dry conditions provide safe, wide open air space to enjoy a one-of-a-kind way to appreciate your hometown. Rides take 60 to 75 minutes, offering stunning aerial views of rolling hills, sparkling lakes, lush vineyards, grand estates, and even the Pacific Ocean.
There's a hot-air balloon ride for every occasion. Celebrate birthdays, anniversaries, and other milestones feeling like you can touch the skies. Live out romantic moments watching the sun rise or set from the heights. Some balloon ride services even let you enjoy Temecula's fine wines during your flight.
Ride into the Temecula sunset on horseback
Temecula is home to many ranches and equestrian services that allow residents and tourists to experience the city's great outdoors on horseback.
The Temecula Eq-Wine Riders offer trail tours that bring you to the heart of the Wine Country, punctuating scenic rides with wine-tasting stops. A more relaxed riding experience through the Temecula vineyards comes courtesy of the Temecula Carriage Company, which offers memorable horse-drawn carriage and trolley tours.
Those who prefer to be spectators can watch polo games and dressage and show-jumping exhibitions at the upscale Galway Downs Equestrian Center.
Spend the night under the stars
Set up camp at one of Temecula's many campgrounds for the ultimate outdoors experience. The city's 30 parks are a great starting point when looking for sites, but if you want to really connect with nature, keep Diamond Valley Lake, Lake Hemet, and Lake Skinner on your must-visit list. These lake resorts offer the best natural settings – miles of waterfront, verdant mountainsides, and dazzling, clear skies!
Excited to get to know the Temecula outdoors better? Drop me a line and let's chat!