Back Home
The Temecula Balloon & Wine Festival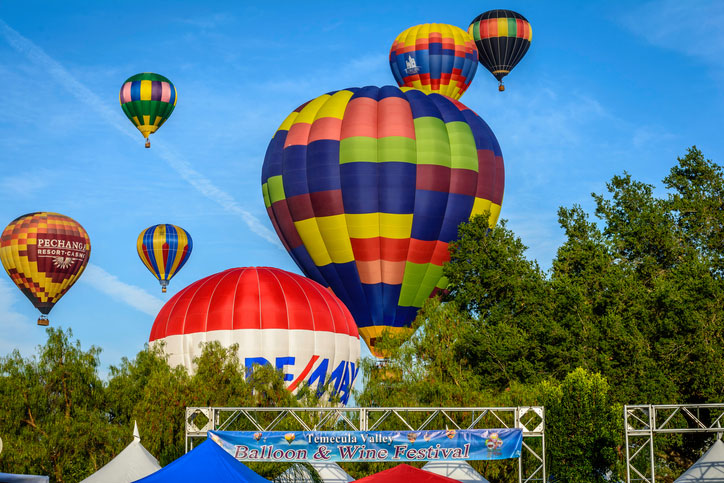 This year's Temecula Balloon & Wine Festival takes place at the Lake Skinner Recreation Area, from June 2, to June 4, 2017. Join the fun and witness hot air balloon flights and electrifying performances, indulge in the best food and wine, and browse through an extensive selection of arts and crafts booths and commercial exhibits.
Originally known s the Rancho California Balloon and Wine Festival, the festival was first started in 1983 by Walt Darren, a pilot and balloonist and Evelyn Harker, an experienced event organizer. The first event took place in the spring of 1984 – at that time, there were only six wineries in the area. Over 4,000 people attended the very first event, which was a smashing success, considering the town had only 9,000 residents.
Today, the festival is one of the most-attended events in the region, drawing more than 40,000 attendees each year.
Unforgettable entertainment
This year's festival will feature a stellar lineup of performers. Head to the Wine and Main stages to for Back to the 80s on Friday, Rock Saturday, and Sunday Fun Day Country.
Here's a look at this year's entertainment schedule:
Friday, June 2
– Main Stage (Concerts start at 6pm)
Annabella's Bow Wow Wow
Dramarama
Gene Loves Jezebel
The Motels
Nu Shooz
Pretty Poison
Tommy Tutone
– Wine Stage (Concerts start at 6pm)
David Luning
Twisted Gypsy
We Belong
– Evening Balloon Glow (after sunset)
– After Party (9pm to closing) – DJ Pasha
Saturday, June 3
– Main Stage (Concerts start at 4pm)
Bush
Gin Blossoms
The Kickback
Tonic
– Wine Stage (Concerts start at 11am)
Mindi Abair & The Boneshakers
Thomas Nicholas Band
Sarah Pumphrey
Nadia LanFranconi
Bennett
– Evening Balloon Glow (after sunset)
– After Party (9pm to closing) – DJ Orion
Sunday, June 4
– Main Stage (Concerts start at 1pm)
Cassadee Pope
David Nail
Josh Turner
Chris Carmack from CMT&rsquo's "Nashville"
– Wine Stage (Concerts start at 12pm)
The Gatsby Affair
Taylor Alexander
Luci
The Finalists from Local Rising Star
The best wine, food, and beer
Festival goers can indulge in some of the finest wine, food and beer Temecula has to offer. 16 of the best wineries are participating this year, which gives wine connoisseurs plenty to look forward to.
Winers, diners, and beer lovers can try Food & Wine Pairing or Beer & Food Pairing, which features a three or four-course culinary experience. Each course is crafted by a different chef, and a different complimentary wine will be available for every course in the Food & Wine Pairing.
Hot Air Balloons
The sky is the biggest stage at the Temecula Balloon & Wine Festival. Witness colorful hot air balloons at the Sunrise Morning Balloon Launch starting at around 6:30am, or the Evening Balloon Glow, which starts at around 8pm.
If you want to ride a hot air balloon, head to the Wine Stage for the free Morning Balloon Tether on Saturday and Sunday. Remember to get there early, to avoid the long lines.
Find out more about the Temecula Balloon and Wine Festival by visiting this page.